Teddies and Silkies.....a happy mix!

Welcome into our old schoolhouse cottage which used to be at a tiny railway siding town called Karonie, a railway fettlers settlement where families lived whilst building the Transline railway link between Perth and Sydney, it was completed in 1917 and this old schoolhouse was moved into Kalgoorlie with six horses and a timber jinker along dusty corrugated roads 80 kms through the bush.

Pull up a chair at our 112 year old Tasmanian oak kitchen table that used to grace a very old pub dining room here on the Goldfields of West Oz. Have a cuppa tea and take time out to read about us guys here in Kalgoorlie among the gumtrees and gold deposits in semi-desert surroundings,600kms from Perth.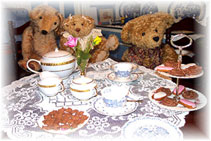 Both of us have grown up with our teddybears , I dragged my Barton Waugh Bruno ted everywhere and Eric had his very much loved blue mohair bear so I guess bears have been with us both since babyhood.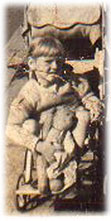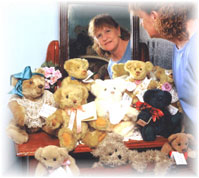 My very first bear was a magazine pattern made with plastic joints and acryllic fur way back in 1989 , a lot of persistence and love went into him and was I proud of that bear and he actually looked a lot like a teddy too !

In 1991, we took over a children's boutique Cabbages and Kings Kids Shop and of course,turned it straight away into an exclusive teddy bear store with everything bear you could imagine.......Cabbages and Kings TeddyBear shop.

In amongst all the busy times in the shop, I found time to enter a few bear shows back East and the warm fuzzies I got when my bear Sophie,a vintage looking ted with a crocheted lace collar won the Best Bear of Show from 90 bears entered in 1995 at Wollongong with the score of 100 points! I was one very happy artist with my head in the clouds for a few days ,I tell you!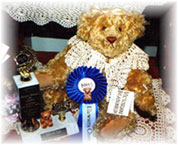 And too..... we made a very special friend in Neill Bartlett, a photographer from Melbourne. On one of his many visits here, Neill spied one of our old teddies, a Berlex bear made in Melbourne in the Forties and thus started an ongoing love affair between our Old Ted and Edward Bear, Neill's bear designed by Almost South Pole Bears in New Zealand. So far, Neill has published three books on these intrepid teddy travellers, who've done almost everything from getting lost in the Aussie bush to hot air ballooning over the sharky waters of the Great Australian Bight to digging for gold in Bendigo underground! Very magical and enthralling books that are not just for the kids but for us grown-up kids too!


Now for the best thing that's ever happened to our family..............Along came two sweet little ladies into our rather austere and tidy lives in the form of two Australian Silky Terriers.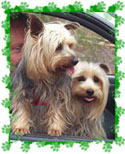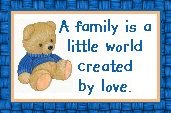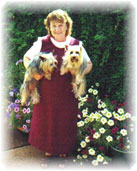 Penny and Tessa are half sisters three years old. They sure led us a merry chase when tiny puppadogs and many's the time there'd be a teddy body that wouldn't fit thru the dogdoor left lying in the kitchen,tsk,tsk! Now, these Silky Girls can be absolutely trusted to saunter thru the bear foyer without even bothering the teddies but I still have all our old vintage bears up out of temptation's way ....... just in case :)
They are a great help when I'm sewing, they give new meaning to "up close 'n'personal like"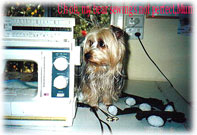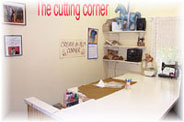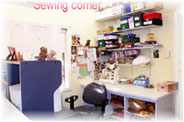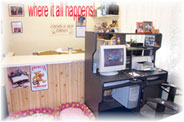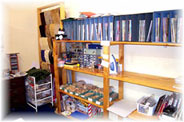 Then again,being owned by TWO Silkies and many bears is much nicer than being owned by just one ,"sorta like eating a potato chip,ya can never stop at just one "...as one Alaskan Silky owner Mark Robitaille says :) The wonderful thing about the internet is how many warm,sincere friends we've met up with. Mostly in the bear and Silky Terrier circles and in person .............from Alaska down to the bottom of our beary small world here in Oz to just about everywhere ! Our teds have gone to the four corners of the earth over the past few years,having donated some to Libearty auctions in London to selling to bear collectors in Germany ,United States, England,Alaska, HongKong,New Zealand,Japan and in Oz. I feel it to be an honour when I sell a bear,just to know a little bit of my artistry has gone into that bear design to probably outlive me! If ever you pass thru this fairly remote outback city , give me a ring and c'mon around,the jug will be boiling for a cuppa and a yak,the Silky Girls will be ready for a friendly lick and the bears are always ready for a pick-up and huggles too so next time you're cruising our way either in person or in cyberspace,pop on in and see what we're all up to here at Bearoness Bears.